'Europa Tourism Sci-Fi Space Art Print' Portrait Wall Art Print
---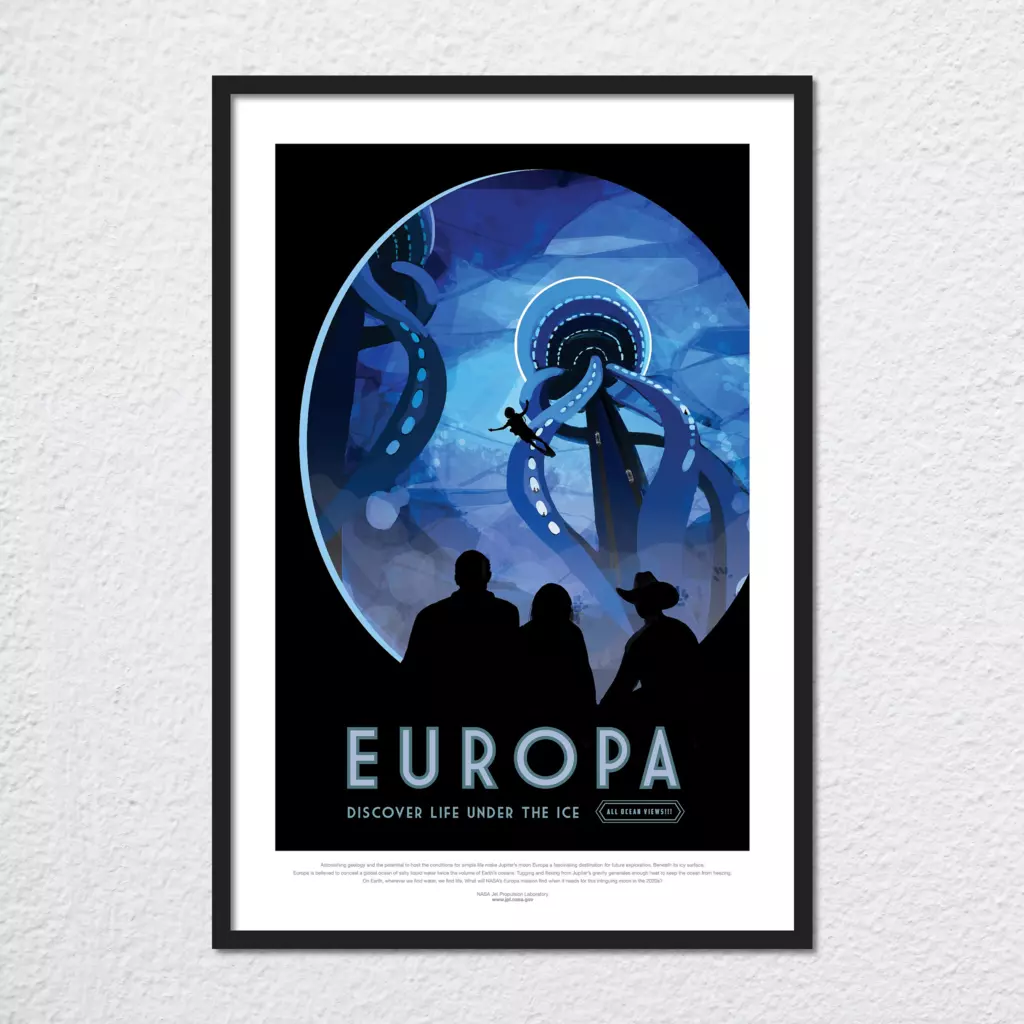 ---
Hint: Select a product size and material to see how it looks!
Ultra premium quality wall art print.
Poster on Epson™ Ultra Premium Luster, 260 gsm.
Paper stock sourced from Japan.
Slightly glossy finish between matte and full gloss.
FSC certified paper from sustainably managed forests.
Canvas on acid-free fade-resistant canvas, 470 gsm.
Canvas stock sourced in the EU.
Canvas and wood frame also FSC certified.
Fingerprint and UV resistant.
Securely packaged in safe prismatic cardboard design.
Estimated UK delivery 🇬🇧
8 to 10 working days, if you order today.
Description
Ultra premium quality wall art print. Choose from an unframed print, framed print or a canvas print.
This print will look amazing on your dining room, kitchen or bathroom wall.
Faithful reproduction of artwork originally painted by American artist NASA.
Poster prints are printed on 200 gsm museum-quality semi-gloss paper from FSC certified sustainably managed forests.
Canvas and wood frame are also sustainably sourced FSC certified materials.
The small-sized grey caption in the lower margin of the print reads:
"Astonishing geology and the potential to host the conditions for simple life make Jupiter's moon Europa a fascinating destination for future exploration. Beneath its icy surface, Europa is believed to conceal a global ocean of salty liquid water twice the volume of Earth's oceans. Tugging and flexing from Jupiter's gravity generates enough heat to keep the ocean from freezing. On Earth, wherever we find water, we find life. What will NASA's Europa mission find when it heads for this intriguing moon in the 2020s?"
This Portrait wall art print of 'Europa Tourism Sci-Fi Space Art Print' by NASA is available in 5 sizes: 12 × 16″, 12 × 18″, 18 × 24″, 24 × 36″ and 8 × 10″ .

This wall art print is available on canvas, framed black and unframed poster materials.